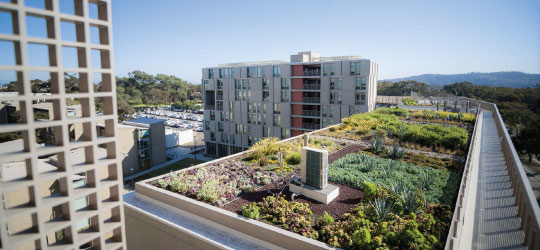 Green Building Program
UC San Diego's Offices of Design & Development Services and Capital Program Management are committed to the design and construction of a sustainable environment. The university follows the Leadership in Energy and Environmental Design (LEED) Green Building Rating System.
New Buildings and Renovations
Design and construct all new buildings and major renovations to a minimum LEED-Silver rating as well as meet the prerequisites of the Laboratories for the 21st Century Environmental Performance Criteria.
Design and construct all renovation projects with a cost of $5 million or greater (except acute care facilities) to a minimum LEED-CI Certified rating.
LEED-Certified Projects
As of July 2019, UC San Diego has completed 38 LEED-certified buildings and renovations on campus – 3 Platinum, 21 Gold, 8 Silver and 6 certified.
Green Building Video Tour
 Platinum
Gold
Silver
Certified
Related Links