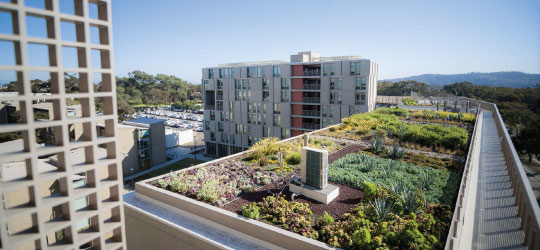 Green Building Program
UC San Diego's Offices of Capital Program Management and Project Quality Management are committed to the design and construction of a sustainable environment. The university follows the Leadership in Energy and Environmental Design (LEED) Green Building Rating System.
We strive to meet these criteria for all new buildings and renovations:
Design and construct all new buildings and major renovations to a minimum LEED BD+C Silver rating as well as meet the prerequisites of the Laboratories for the 21st Century Environmental Performance Criteria.
Design and construct all renovation projects with a cost of $8 million or greater (except acute care facilities) to a minimum LEED-IDC Certified rating.
Visit UC San Diego Sustainability for more information on how we're working together to meet campus sustainability goals. 
Highlights
Walt Kanzler, senior director of Project Quality Management, was selected as a 2022 Leadership in Energy and Environmental Design (LEED) fellow, joining the ranks of fewer than 300 LEED fellows around the world. Fellows are considered exceptional practitioners and leaders within the green building community who have demonstrated mastery of the technical application of LEED.
North Torrey Pines Living and Learning Neighborhood

Platinum Level Touchstone Award by The Center for Health Design – making it the first education system to receive this level of recognition. The Touchstone Awards program is a National Evidence Based Design award that recognizes projects that excel in three categories: Collaborate, Evaluate, and Share. A Platinum Award demonstrates the highest achievement in the application of the Evidence Based Design process and contributes knowledge to the industry and future projects.
A Fast Company Honoree for its 2022 Innovation by Design Awards under the "Best Educational Design of 2022"
In Progress
Seeking Parksmart Silver certification for North Torrey Pines Living and Learning Neighborhood, Theater District Living and Learning Neighborhood and Hillcrest Outpatient Pavilion. The UC Green Building Working Group is developing policy to adopt Parksmart as a UC systemwide standard.
Transition from SBD to new CEDA incentive program.

Connect with project teams to ensure participation in newly created CPUC incentive program.
Update 2021-22 Design Guidelines to include new program.

Developed commissioning flowchart in coordination with Utilities & Sustainability and the engineering team.
Reinforce current practice of Life Cycle Cost Assessment (LCCA) for projects. UCOP is working on LCCA best practices guide for implementation in 2022.
Strategies
Design Objectives and Guidelines - Sustainability: Led by the UC Sustainable Practices Policy, UC San Diego pushes the boundaries of excellence in sustainable construction. The university routinely evaluates design features that strive for in U.S. Green Building Council LEED Gold or higher ratings. Examples of sustainability elements considered at the project level include:
20% post-consumer recycled content material
Bicycle facilities/employee showers
Carbon dioxide sensors
Cool roof system
Dedicated parking for low-emission vehicles
Displacement ventilation system
Grey water use potential
Naturally ventilated office modules
Photovoltaic infrastructure
Reclaimed water for irrigation
Storm water treatment system
Ultra-low flow plumbing fixtures
Life cycle costing analyses are part of the building design process so that economy and sustainability in the design of systems and selection of equipment may be achieved. Parameters evaluated include cost, energy savings, operation and maintenance, replacement cost and upgradeability. Further, projects that have upgraded both the campus and medical center utilities plants, renewal of building systems and implementation of new energy-management and energy-conservation equipment, have proven to be efficient and cost-effective.
Working with private sector energy experts and in partnership with industry, UC San Diego has developed an alternative energy program to use the campus as a living laboratory engaging students and faculty from multiple disciplines and working with campus operations staff in designing and deploying renewable energy systems to provide power for the university. In addition, plans are under consideration for expanded use of photovoltaic systems, enhanced energy-efficiency programs, installation of stationary fuel cells powered by renewable methane, use of renewable methane at the cogeneration plant, and electrical power produced by Southern California wind farms, so that UC San Diego develops into a state-of-the-art, carbon-neutral campus.
Continue to meet UC Sustainable Practices Policy objectives and implement greenhouse gas reduction strategies in building design
Optimize the use of existing facilities, sites, and campus space through repurposing, renovation, infill, and consolidation where appropriate
Embrace sustainable facility designs and encourage "green" operations where appropriate
Continue to provide and expand on-campus housing opportunities to reduce vehicle miles traveled to/from campus, thus reducing the campus' carbon footprint
Adaptive reuse provides ongoing use of existing older buildings that may have substantial deferred maintenance and require significant upgrades. These projects reduce embodied carbon by reusing significant portions of the building superstructure and existing utilities when possible. A good example of this is the HSS exterior retrofit that maintains the original building character and provides a new life to the building envelope.
In addition to maintaining a link to the past and celebrating historic buildings along with new ones on campus, reuse of an historic building is one of the most sustainable actions the campus can take to promote green buildings and sustainability. The university has several notable historic buildings and it should maintain their eligibility for listing on the National Register of Historic Places. Campus Planning has a list of campus buildings that are potentially eligible for listing on the National Register that should be sensitively upgraded and/or maintained.
The National Register of Historic Places is the nation's official list of buildings, structures, objects, sites and districts worthy of preservation because of their significance in American history, architecture, archeology, engineering, and culture. The National Register recognizes resources of local, state and national significance that have been documented and evaluated according to uniform standards and criteria. The National Park Service, which is part of the U. S. Department of the Interior administers the National Register. In California, the State Historic Preservation Office administers National Park Service.
For proposed capital development projects, campuses utilize the Operational Carbon and Energy Assessment tool for new buildings (OCEAN) to forecast utility costs and operational carbon emissions. The results are presented to the Board of Regents for information relative to achieving our overall carbon reduction strategies on a project-by-project basis. The tool introduces a uniform methodology for considering energy and carbon in capital asset development. It enables and facilitates campus design teams to evaluate various major building system and sustainable strategy options to support carbon neutrality goals.
To reduce energy and water consumption, avoid carbon emissions and improve resilience and comfort, University of California buildings and infrastructure are designed with local climate conditions in mind. As the Earth warms, these local conditions are changing. The University of California recognizes that buildings and infrastructure will need to react to shocks (e.g., extreme weather events), stressors (e.g., warmer temperatures),and their indirect effects (e.g., power outages). Since the historic design criteria used by designers may not accurately reflect future conditions, future-shifted climate data is needed to improve awareness and enable decision makers to better tailor designs to respond to these shocks and stressors. This guide equips University of California stakeholders with improved tools to assess impacts and adjust design for our changing climate.
During project siting and building design, the campus aims to avoid any impacts to sensitive cultural resources that may lie beneath the ground surface. However, to account for potential unknown cultural resources to be unearthed during building construction, the campus will employ Native American and archaeological monitors to monitor the top 3-4 feet of soils removal. This applies to both construction on native soils and redevelopment sites alike. Learn more
UC San Diego Facilities Management is committed to sustainable operations, maintenance of campus buildings and management of minor campus building renovations and retrofits in accordance with the UC Sustainable Practices Policy.
Strategies
Reducing the number of individual trash bins in existing buildings and placing bin buddies (small trash bins attached to recycling bins) in new core-funded buildings.
Reducing the number of mop buckets and using IMOPs, or other more reliant similar equipment, to clean more floor area with less water.
Turning off lights after completing custodial services in offices, classrooms and lecture halls.
Use the Trade Street warehouse to reuse furnishings for new custodial check-in offices, Supervisor's offices and other rooms before ordering new furnishings.
Working with our vendors to continue to procure environmentally preferred products and equipment, including:

Paper products that meet EPA guidelines for post-consumer fiber content
Can liners with resin that contains 10% post-consumer content
Auto scrubbers with variable-speed pumps to optimize use of cleaning solutions and reduce water consumption
Microfiber technology and/or a flat mop system to capture more dirt, reduce chemical use and increase efficiency
Investing in new equipment with a lower environmental impact profile while maintaining efficiencies at competitive prices

Training staff to use equipment with proper flow rates, which reduces water consumption and over-saturation.
Installing high-quality mats at building entrances to reduce the amount of soil tracked into buildings and reducing cleaning efforts.
Replacing:

Fluorescent lighting fixtures with LED lamps and ballasts
Traditional water fountains with hydration refill stations
Aging and leaking faucets with lower gallon per minute (GPM) sensor faucets.

Installing hands-free flushing mechanisms for urinals and water closets
Take Action
Visit LEED-Platinum buildings on the UC San Diego Main Campus
USP 169 – Introduction to Green Building Course
The Urban Studies & Planning (USP) 169 for-credit course was initiated from a volunteer pilot hosted by the North Torrey Pines Living & Learning Neighborhood (NTPLLN) Design/Build team in collaboration with UC San Diego. A UC San Diego adjunct alumnus with extensive green building experience teaches the course using the campus as a living lab and sharing multiple project team experience with the students, including on campus tours, and specific hands-on experience with LEED credits, leading to the opportunity for the students to gain their LEED GA credential.
LEED Projects
New buildings and major renovations are designed and constructed following the Leadership in Energy and Environmental Design (LEED) Green Building Rating System. See our LEED projects.
Related Links