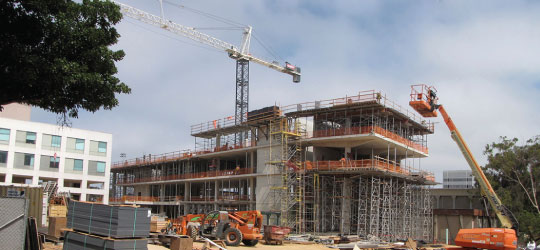 Major Construction and Renovation Services
Our Capital Program Team provides efficient planning and implementation of capital projects that support the campus's strategic plan. We are working to enhance the student experience, cultivate an inclusive and diverse community, expand our research competency and impact and improve the delivery of advanced healthcare.
Project Status
MyConstructionProjects, UC San Diego's Construction Project Dashboard, is a user-friendly tool that provides the most current information about your major and minor capital improvement projects. Anyone who has Single Sign-On access can use this tool.
Design and development professional focus on strategic visioning and quality control of the university's capital improvement program. They provide pre-design and inspection services and functional support includes design review, building official, issuance of building permits and inspection of record services.
Comprehensive development services include:
Managing strategic development and administration of UC San Diego's $3.2 billion capital improvement program
Strategic visioning of future capital projects
Serving as the Designated Campus Building Official and delegated authority for execution of consultant agreements, minor capital projects
Conducting architectural design review
Appointing Executive Architects and Engineers
Issuing required building permits and other authority approvals
Providing inspection services
Program management professionals implement the university's capital improvement program, including project management, engineering services, contract administration, fiscal management and supporting administrative services.
Comprehensive project management services include:
Overseeing all aspects of construction management and administration; project programming, planning and management; on-time and on-budget delivery of design and construction services which advance the mission, vision, and values of UC San Diego.
Completing all major capital projects on time, within budget to meet client expectations
Coordinating bidding and award of contracts
Managing construction and contract documentation
Utilizing a variety of project delivery methods to ensure implementation of comprehensive project schedules and budget management from preliminary planning through construction completion and occupancy
Hourly Recharge Rates
Associate Vice Chancellor: $313
Senior Director: $245
Director, Program Manager: $187
Project Manager, Inspector, Contracts Manager, Engineers: $162
Contract Administration, Assistant Project Manager, Project Specialist: $84