Projects
Operations during the COVID-19 Pandemic
While UC San Diego always complies with safety requirements on all project sites, general contractors are obligated to maintain a safe jobsite as defined by regulatory requirements, insurance protocols and company procedures.
During the COVID-19 pandemic, contractors are responsible for adhering to State of California Executive Orders, Centers for Disease Control and Prevention (CDC) Guidelines, County of San Diego Orders and the Construction Industry COVID-19 Exposure Response & Prevention Plan. In addition to typical construction site safety reporting at regular meetings, general contractors share COVID-19 safety implementation strategies and are responsible for reporting any COVID-19 positive tests to the university.
See the December 17, 2020 bulletin.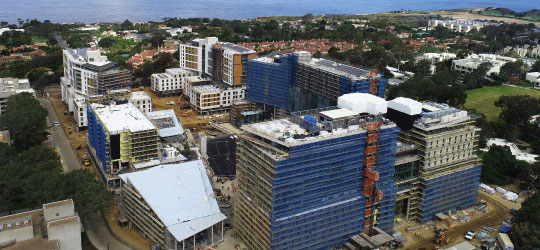 North Torrey Pines Living and Learning Neighborhood
Strategic Planning
Construction Projects