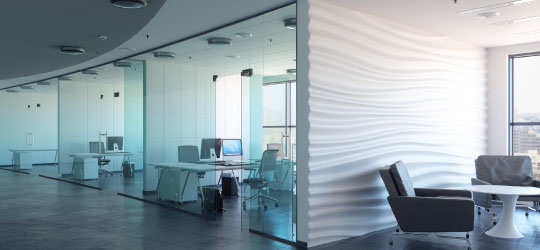 Space Management and Planning
We provide a perspective towards balancing challenges and opportunities to use campus space effectively. Currently, we are focusing on administrative space and we can advise on reassignments across Vice Chancellor areas, while considering strategic campus space needs, the Capital Program, Long Range Development Plan, UC Climate Action Plan and logistic impacts of ongoing projects. We maintain campus facilities information tools and curate data to support space planning and management.
Our goals:
Promote efficient space allocation
Provide effective tools and services to support space analysis and management
Provide useful information about buildings and locations
Workplace Planning and Design
Guided by the Strategic Plan and Long Range Development Plan, UC San Diego has experienced rapid growth, including an increase in student enrollment, staff and faculty population, research and healthcare, and new construction to accommodate this growth. These changes require the ability to analyze our current space use patterns for planning purposes.
Flexible Work Arrangement Analysis Takeaways
The post-COVID return to work environment has created more flexible work arrangements, resulting in more employees working remotely.
This change in space use requires us to think differently about administrative space utilization. For example, hybrid work schedules allow for those who work primarily off-site to share workspaces with others while optimizing the use of campus space. Providing flexible spaces, such as private Zoom rooms, collaborative areas and hoteling stations, can also help to optimize workplace efficiency.
Effective space management and planning results from leveraging various tools and data sources to inform campus decision-making. In 2018, UC San Diego implemented a Live Density Program to measure occupancy information in public areas.
Space Planning Resources
Campus Space Coordination – While Vice Chancellor areas and departments are responsible for planning and executing their own moves, we assess the larger context and help guide plans for future space needs. Use the Space Request Form to document your new space request that may be a result of staff growth, department reorganization, displacement/relocations, operational efficiencies or consolidations. Campus Planning will work with you and your Vice Chancellor's designated Space Manager to help identify appropriate space on campus.
Space Strategy Working Group – Campus Planning leads this group comprised of representatives from multiple Vice Chancellor areas, including Academic Affairs, CFO, Student Affairs, Human Resources, Real Estate and Health Sciences. This group defines and establishes space use guidelines and a space standard framework for successful administrative space management.
Administrative Space Guidelines – UC San Diego is experiencing rapid campus growth, including an increase in student enrollment, new academic and housing construction and the arrival of Light Rail Transit in 2021. In an effort to maximize the efficiency of existing administrative office space and transform new and renovated work environments, the campus is implementing new administrative office space planning guidelines. These voluntary guidelines aim to encourage a more balanced activity-based workplace environment by providing workspaces that best support the work that occupants perform. Additional goals include utilizing modern space planning metrics, creating equity of space, providing more social spaces and encouraging more collaboration.

UC San Diego Administrative Space Use Guidelines – This document provides an overview of activity-based workplace planning concepts and how to implement them in the work environment. It also provides planning principles, examples and practical planning ratios for calculating space requirements for new or reconfigured administrative offices.
Steelcase UC San Diego Administrative Space Furniture Guidelines – This document provides a furniture-planning guide that illustrates different types of furniture configurations that support collaborative and focused workspaces. These guidelines aim to help standardize workplace settings and serve as a starting point for the furniture procurement process.
Gensler UC San Diego Benchmarking Study – These guidelines consist of space management committee frameworks, standards, policies and best practices recommendations developed in conjunction with Gensler and based on key UC San Diego leadership and staff interviews, and benchmarking studies among the top 15 research universities. This study forms the basis of the UC San Diego Administrative Space Use guidelines.