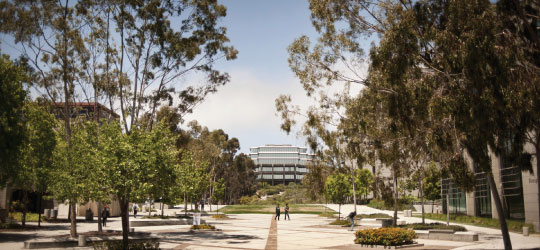 Campus Planning
Campus Planning looks at the big picture. We conceptualize and consider how we can best shape the built environment. We ask questions and provide answers: How can we deliver on leadership's vision while meeting campus needs and working with the surrounding community? What regulations may affect development? Where will funding come from?
Campus Planning provides a framework to guide future development of the built environment – the buildings, open space, transportation, circulation and infrastructure improvements needed to keep the campus functioning effectively. The Campus Planning office oversees:
Other functions include:
Maintaining a portfolio of plans and studies including the Long Range Development Plan
Working with a variety of committees
Collaborating with internal and external stakeholders, including local community members, groups, organizations, the City of San Diego and agencies, such as SANDAG and Caltrans
Working closely with the California Coastal Commission, a state regulatory agency, to ensure compliance and to procure coastal development permits for projects located on university property within the coastal zone
Questions?
Contact Campus Planning.