Recently Completed Projects
As the campus has expanded facilities over the last several years, campus-wide infrastructure upgrades were necessary to provide adequate water and fire services to create redundancy in our domestic water systems. Construction included demolition of surface improvements, excavation and installation of new domestic water pipe and appurtenances, and replacement of surface improvements. 
Project Details
Project Manager: Aaron Cooley
Phase: Construction
Completed: Spring 2023
Locations: Northpoint Lane, Ridge Walk, Hopkins Lane (site map)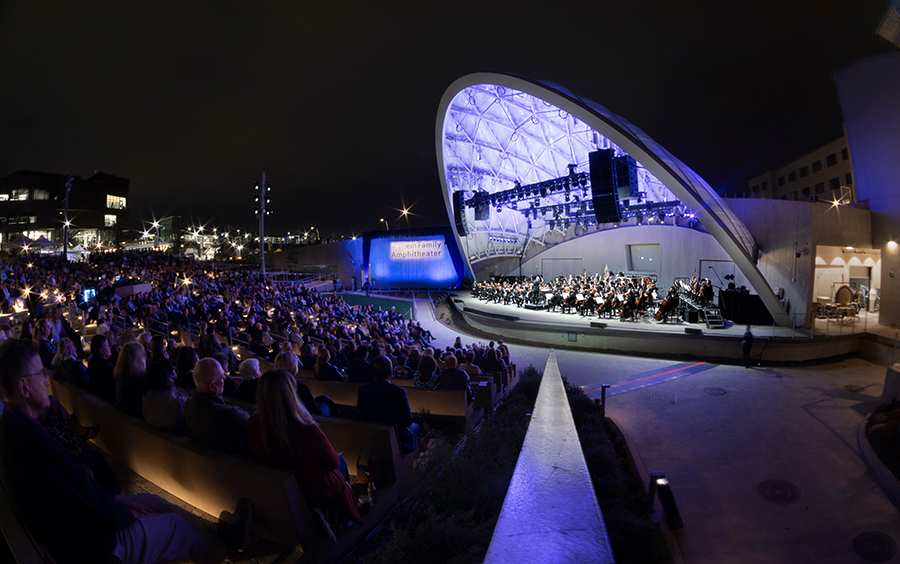 This open-air amphitheater for students, faculty, staff and visitors will be used for formal and informal events. When not used for events, the amphitheater will be used for outdoor recreation as a part of the Pepper Canyon West Living and Learning Neighborhood. This new space enhances the experience for people arriving on campus via the Blue Line Trolley and includes pedestrian walkways and landscaping improvements to the area.
Press
Project Details
Project Manager: Bryan Macias
Executive Design Professional: Safdie Rabines Architects
Contractor: BNBuilders
Completed: Fall 2022
Location: Pepper Canyon
LEED Certification Goals:

Amphitheater: Gold
Athletic Training Room: Gold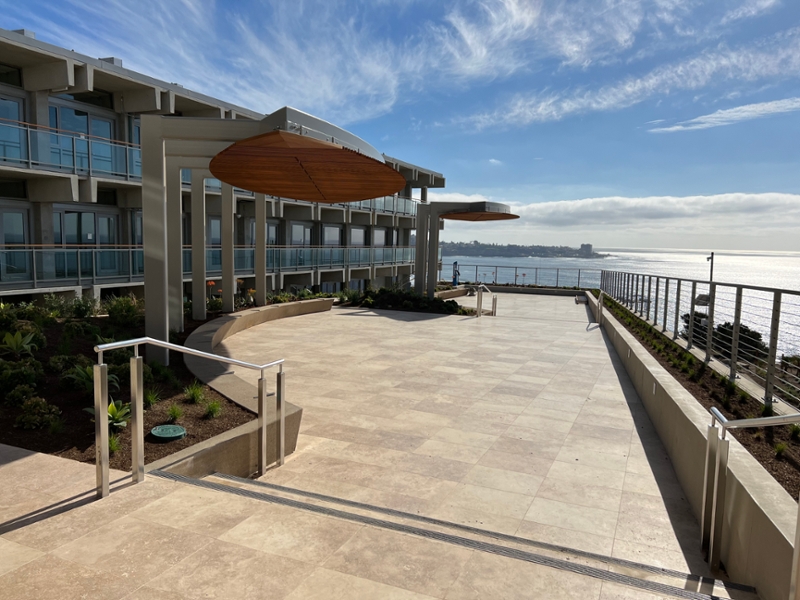 The project converted Building D, and the basement portion of Building A, from the original construction of the National Oceanic & Atmospheric Administration (NOAA) Southwest Fisheries Science Center built in 1963 on Scripps land. In 2013, NOAA built a new facility across the street and the land reverted to the university.
The Marine Conservation and Technology Facility is the physical center for the Center for Marine Biodiversity and Conservation (CMBC), which is poised to take a greatly increased role in the global arena of science for solutions in marine biodiversity and conservation. It has modern classroom facilities that enable the development of novel training programs, including professional short courses and problem-solving workshops. The basement is devoted almost entirely to a saltwater research aquarium that has chilled, ambient and warm seawater pumped directly from the Pacific Ocean from the Scripps Pier seawater system. These facilities provide undergraduate and graduate coursework in marine biodiversity, conservation, resource management, advanced statistical analysis and associated disciplines.
Project Details
Project Manager: Kacy Wander
Executive Design Professional: Safdie Rabines Architects
Contractor: PCL Construction and Planning
Completed: Spring 2022
Location: Scripps Institution of Oceanography campus, north end
LEED Certification Goal: Gold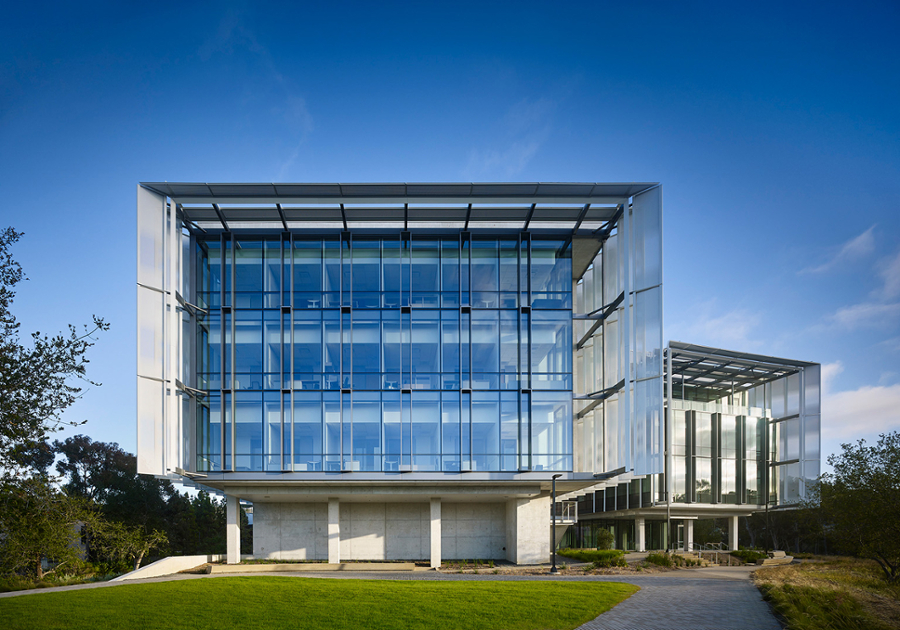 In an effort to meet the needs of its growing student population, the Jacobs School of Engineering added a free-standing building that features 200,000 gross-square-feet of laboratories, classrooms, faculty offices, meeting space, an auditorium and café. The building is designed to foster collaborations between various fields of research via shared laboratories and work areas. The new building makes room for more faculty to improve student-to-teacher ratio and is connected to the university's existing pedestrian paths and bike lanes.
Press
UC San Diego Celebrates Franklin Antonio Hall Groundbreaking.
Project Details
Program Manager: Mark Rowland
Project Manager: Abigail Grass
Phase: Construction
Executive Design Professional: Perkins+Will
Contractor: McCarthy Building Companies, Inc.
Completed: Spring 2022
Location: Warren College Neighborhood
LEED Certification: Platinum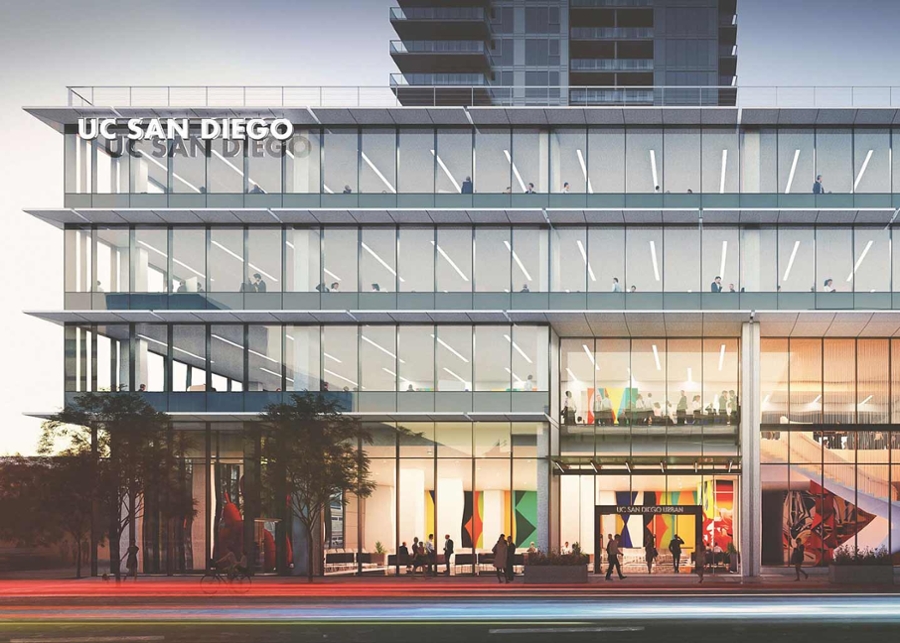 Project rendering
The City of San Diego selected Holland Partner Group to redevelop a full-block site at the northwest corner of the intersection of Park Boulevard and Market Street in downtown San Diego. The redevelopment project includes apartments, retail, parking and warm shell space. In June 2017, the UC Regents authorized the campus to purchase approximately 66,000 gross square feet of this warm shell space to create a UC San Diego location at this property. The property has been entitled through the City as part of the larger mixed-use, high-density development and the City is acting as the responsible agency under the California Environmental Quality Act (CEQA).
The site is strategically located in the heart of downtown San Diego's East Village neighborhood, clustered with educational institutions as well as firms and entrepreneurs specializing in innovation, technology and the creative arts. The center will become a key intersection where people, ideas and plans that draw on the rich resources of a global research university can come together to address the bigger question: what can San Diego become? The downtown center was designed with a purposeful mix of public, meeting, arts and educational spaces for civic engagement, learning, collaboration, and cultural experiences unlike anywhere else in the region.
UC San Diego will convene an unprecedented array of talent and resources, from local to global, at the downtown center, allowing individuals, organizations, students, staff and faculty to build new productive relationships and create opportunities to improve our community—economically, culturally, socially and for the greater civic good. The shell building includes underground parking, storage, a grand spiral staircase, offices, computer lab, classrooms, dance/yoga studio, theater space, critical listening room, bistro café and LED video wall and is a LEED Silver certified project featuring a green roof.
Press
Project Details
Project Manager: Jason Berge
Phase: Construction
Executive Design Professional: Gensler
Contractor: Bycor
Completied: Spring 2022 
Location: Downtown San Diego – intersection of Park Boulevard and Market Street
LEED Certification Goal: Silver
Ridge Walk is one of the primary non-vehicular circulation features of the UC San Diego campus. With completion of the North Torrey Pines Living and Learning Neighborhood (permanent home for Sixth College) and Seventh College, the north/south alignment of Ridge Walk traverses six of seven colleges on West Campus. The Ridge Walk improvements project creates an enhanced pedestrian and multi-modal experience, with an emphasis on Ridge Walk identity and wayfinding between Muir College and Revelle College. The design for Ridge Walk improvements (Muir to Revelle) effectively balances the historic district character of Muir College and Revelle College while creating a fresh new look to this important circulation corridor. Improvements also enhance the connection between Ridge Walk and Library Walk near Mandeville Center.
Press
Project Details
Project Manager: Roland Bartsch
Phase: Construction
Executive Design Professional: Spurlock Landscape
Contractor: DPR
Completed: Fall 2021
Location: Muir – Revelle College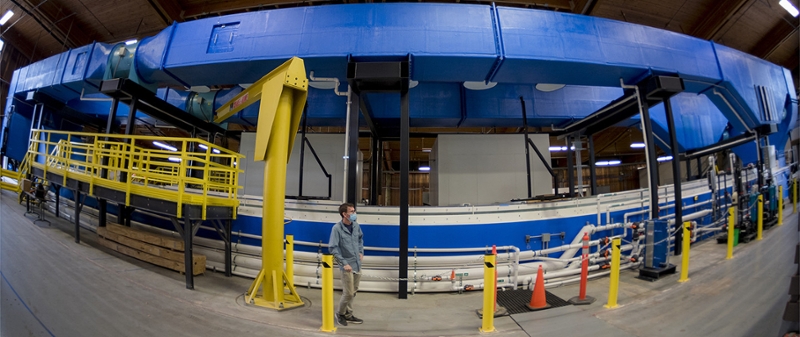 Oceans cover 71% of the earth and exchanges between the ocean and atmosphere drive both weather and climate. The Scripps Ocean-Atmosphere Research Simulator (SOARS) enables laboratory-scale simulations of the ocean-atmosphere boundary, reproducing the complex and interacting systems of wind, waves and microbial processes. SOARS consists of a 36 meter long, 2.4 meter wide by 2.4 meter deep seawater channel and a recirculating atmosphere system to mimic ocean waves and create winds up to gale force conditions. Thermal controls for the seawater and air enable simulation of tropical to polar conditions, including ice-ocean interactions.
SOARS is the only instrument in the world capable of studying the current and future states of the ocean, atmosphere and ocean-atmosphere exchanges while reproducing the physics, chemistry and biology of the ocean. The ability to accurately reproduce the properties of the air-sea boundary and simulate the microbial loop in a controlled laboratory setting encourages interdisciplinary studies, but the biological, chemical and physical controls provided by SOARS also enable focused research within each discipline. SOARS is housed inside the Hydraulics Laboratory (HLab) at Scripps Institution of Oceanography campus, which is associated with UC San Diego. SOARS is being developed under a grant from the National Science Foundation Major Research Instrumentation Program.
Project Details
Project Manager: Megan Francis
Executive Design Professional: AeroLab/CRB
Completed: Fall 2021
Contractor: Align Builders
Location: Scripps Institution of Oceanography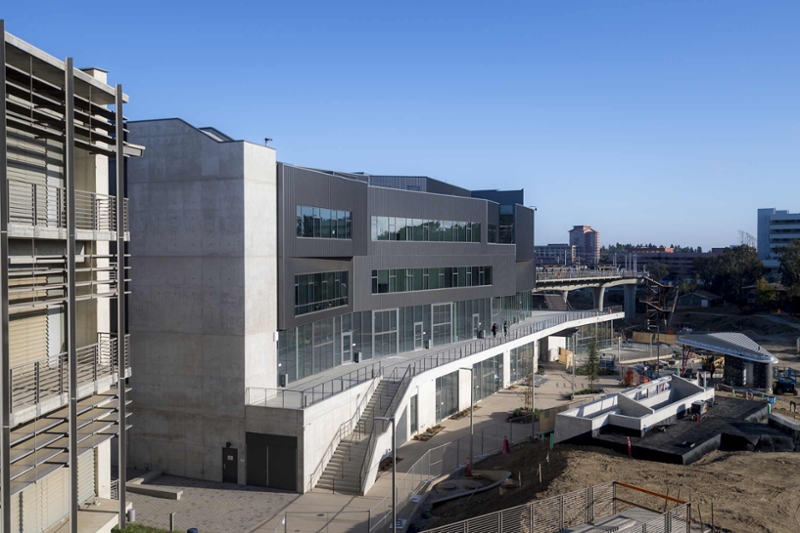 This 74,000-square-foot collaborative facility aims to encourage new ideas, products and services that contribute to UC San Diego's entrepreneurial spirit. Specifically, the goal is to encourage more collaboration between Jacobs School of Engineering, Visual Arts, the UC San Diego Design Lab, Cognitive Science, the Office of Innovation and Commercialization, the Alumni Association and other campus departments. This goal will be accomplished through multipurpose building space that can be easily reconfigured for various programs, meetings and studio learning.
The new facility will become a center for design and innovation activities, which are currently distributed across the campus. Adjacent to the new Light Rail Transit (LRT) station, the Design and Innovation Building will provide a new entrance experience to the campus and serve as a beacon for students, faculty, staff and visitors.
Press
Destination: San Diego – Campus breaks ground on region's newest innovation and entertainment neighborhood.
Project Details
Project Manager: Bryan Macias
Executive Design Professional: EHDD Architecture
Contractor: BNBuilders
Completed: Summer 2021
Location: Pepper Canyon Neighborhood
LEED Certification Goal: Gold rating
Mesa Housing Pedestrian and Bike Bridge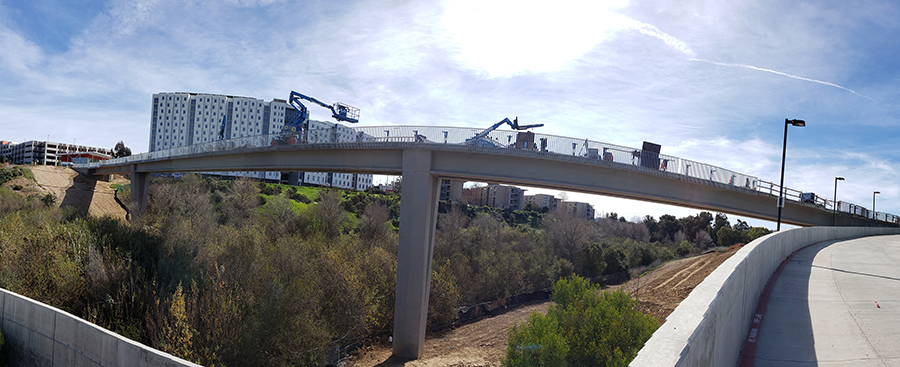 This bridge provides a much-needed connection between Mesa Housing and the Medical Center, while also encouraging walking and biking with significantly shorter, safer routes to almost every part of campus. The bridge spans 465 linear feet and features a 10-foot-wide bike lane and a separate 6-foot-wide pedestrian walkway. The bridge crosses over the environmentally sensitive Central Canyon to eliminate permanent impacts to the nearby wetlands and surrounding natural environment.
The northwest end of the bridge ties into the existing sidewalk at Medical Center Drive, providing direct connectivity to the Gilman Drive Bridge. At the southeast end of bridge ramp, the pathway connects to Miramar Street, allowing people to go east or west along Miramar Street at the housing complex.
Press
Project Details
Project Manager: Ross Kunishige
Executive Design Professional: Kleinfelder
Contractor: Hensel Phelps 
Completed: Winter 2020
Location: East Campus Neighborhood
Awards
2020
Orchid, San Diego Architectural Foundation
UC San Diego and Kleinfelder Receive ACEC California Engineering Excellence Honor Award for UC San Diego Mesa Housing Pedestrian and Bicycle Bridge
2021
Engineering Excellence Honor, ACEC California
Outstanding Bridge Project, ASCE San Diego
Outstanding Chapter Project of the Year, APWA San Diego
Project of the Year, ASCE San Diego
2022
Transportation Award, Best Non-Highway Bridge, PCI National
ACI – Transportation, ACI San Diego
ACI – People's Choice Award, ACI San Diego