Current Projects
Through innovative design, UC San Diego's transformational projects inspire and deliver UC San Diego's vision of the future. With the focus on creating new and better ways of collaborating across groups and disciplines, new construction projects revolutionize the physical, cultural, intellectual, healthcare, patient care, research, residential and diversity of the UC San Diego and Hillcrest campuses.
Design elements focus on UC San Diego's commitment to the student, staff, faculty, patient, visitor and community experience by creating healthy inclusive and collaborative living, learning, teaching, working and playing mixed-use spaces that promote local and global excellence.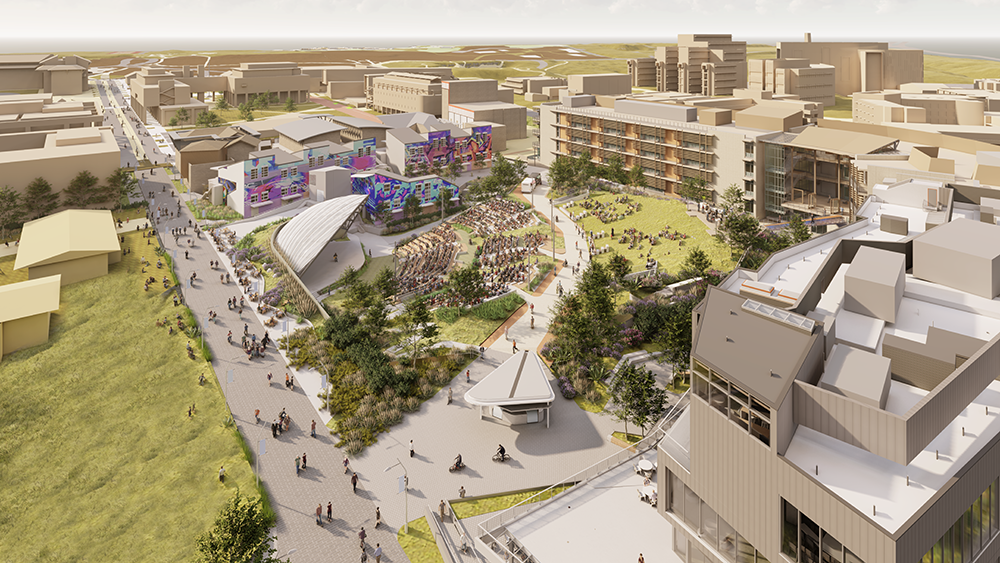 Project rendering
This proposed project would create an open-air amphitheater that students, faculty, staff and visitors could use for formal and informal events. When not in use for events, the amphitheater could be used for more passive outdoor recreation at Pepper Canyon. Completion of the proposed work will enhance the experience for people arriving on campus via Light Rail Transit (currently under construction) and would include pedestrian walkways and landscaping improvements to the area.
Press
Daniel and Phyllis Epstein Donate $10 Million for State-of-the-Art Amphitheater at UC San Diego
Project Details
Project Manager: Bryan Macias, (858) 230-5648
Phase: Construction Documents
Executive Design Professional: Safdie Rabines Architects
Contractor: BNBuilders
Anticipated Completion: Fall 2022
Location: Pepper Canyon
LEED Certification Goals:

Amphitheater: Gold
Athletic Training Room: Gold
Construction Camera
See more views.
Project rendering
In an effort to meet the needs of its growing student population, the Jacobs School of Engineering is adding a free standing building that will feature 200,000 gross-square-feet of laboratories, classrooms, faculty offices, meeting space, an auditorium and café. The building will be designed to foster collaborations between various fields of research via shared laboratories and work areas.
The new construction will make room for more faculty, which will improve student-to-teacher ratio. The project site will also be connected to the university's existing pedestrian paths and bike lanes.
Press
UC San Diego Celebrates Franklin Antonio Hall Groundbreaking.
Project Details
Program Manager: Mark Rowland, (858) 822-0725
Project Manager: Abigail Grass, (858) 534-7793
Phase: Construction
Executive Design Professional: Perkins+Will
Contractor: McCarthy Building Companies, Inc.
Anticipated Completion: Spring 2022
Location: Warren College Neighborhood
LEED Certification Goal: Platinum
Construction Camera
Watch slide show.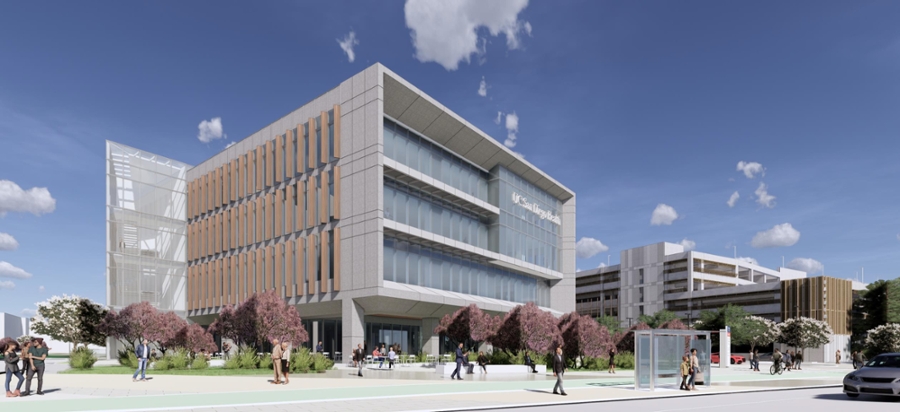 Project rendering
The Hillcrest Campus Redevelopment Phase One includes the Outpatient Pavilion project (approximately 251,000 gross square feet) providing new space for a broad range of diagnostic and treatment services in a number of specialty areas, and address existing demands for outpatient services. This project also includes a new parking structure to provide approximately 1,850 parking spaces for faculty, staff, patients and visitors, and Central Utility Plant and related road and utility infrastructure improvements. This project represents the first phase of redevelopment, which is part of the overall 2019 Hillcrest Long Range Development Plan that would guide redevelopment of the Hillcrest Campus and construction of a new, replacement hospital per California Health and Safety Code (Alquist Act/SB 1953).
Press
UC San Diego Breaks Ground on a Multi-Phase, Multi-Billion-Dollar Redevelopment of Hillcrest Medical Campus
Project Details
Project Manager: Barbara Anderson, (858) 967-6464
Phase: Starting Construction
Executive Design Professional: CallisonRTKL
Contractor: DPR Construction
Anticipated Completion: Fall 2025
Location: Hillcrest Campus
LEED Certification Goal: Silver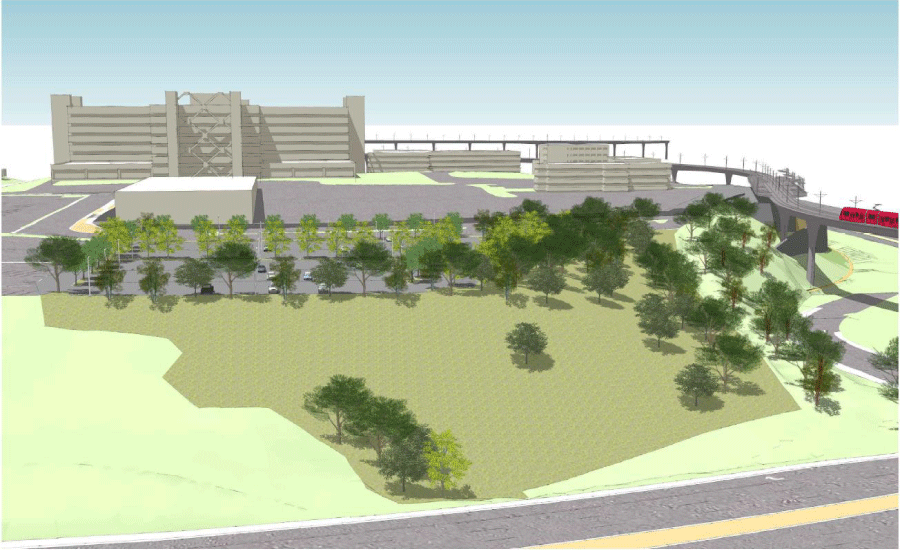 Project rendering
This project will repair onsite erosion and drainage issues on a 4.9 acre university-owned site by importing fill soils, installing new hillside slope and storm water treatment landscaping, and constructing a new parking lot to provide approximately 350 additional spaces south of the Veteran's Affairs (VA) Hospital. Design features include native and drought-tolerant plantings and a biofiltration basin. The project site is bound by the VA to the north, I-5 to the east, and Villa La Jolla Drive to the west.    
Project Details
Project Manager: Nicole Cheng

,

 (858) 822-1874
Phase: Construction
Executive Design Professional: Psomas
Contractor: Sierra Pacific
Anticipated Completion: Winter 2022
Location: Health Sciences West Neighborhood
Project rendering
The project converts Building D, and the basement portion of Building A, from the original construction of the National Oceanic & Atmospheric Administration (NOAA) Southwest Fisheries Science Center built in 1963 on Scripps land. In 2013, NOAA built a new facility across the street and the land reverted to the university.
The Marine Conservation and Technology Facility will be the physical center for the Center for Marine Biodiversity and Conservation (CMBC), which is poised to take a greatly increased role in the global arena of science for solutions in marine biodiversity and conservation. It will have modern classroom facilities that will enable the development of novel training programs, including professional short courses and problem-solving workshops. The basement will be almost entirely devoted to a saltwater research aquarium that will have chilled, ambient and warm seawater pumped directly from the Pacific Ocean from the Scripps Pier seawater system. These facilities will provide undergraduate and graduate coursework in marine biodiversity, conservation, resource management, advanced statistical analysis and associated disciplines.
Project Details
Project Manager: Kacy Wander
Phase: Construction
Executive Design Professional: Safdie Rabines Architects
Contractor: PCL Construction and Planning
Anticipated Completion: Spring 2022
Location: Scripps Institution of Oceanography campus, north end
LEED Certification Goal: Gold
Construction Camera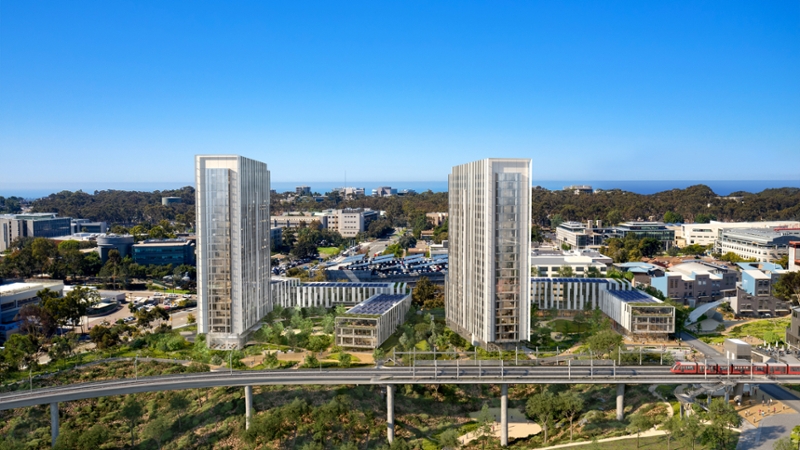 Project rendering
The Pepper Canyon West Student Housing project (Pepper Canyon West) would provide approximately 1,316 new beds in apartment-style units for transfer and upper-division students in response to high demand for affordable on-campus housing. The project would comprise 580,500 gross square feet in two high-rise (22- and 23-story) towers, with connected mid-rise buildings. The total site area is 8.6 acres, with five buildable acres and 3.6 acres of open space that require restoration after the disruption caused during the construction of the Light Rail Transit extension. This proposed development is located immediately adjacent to the new UC San Diego Blue Line Trolley Station in Pepper Canyon and within a five-minute walk of the Gilman Transit Hub, providing extensive public bus transit options. It is transit-oriented and will not include new parking (accessible parking will continue to be available at the Gilman Parking Structure, immediately adjacent to the project site).
The project will be presented to the Regents at their January 2022 meeting for approval of budget, scope, external financing and design following action pursuant to CEQA.
Project Details
Project Manager: Bryan Macias, (858) 230-5648
Phase: Preliminary Plans
Executive Design Professional: Perkins & Will
Contractor: Clark Construction
Location: Pepper Canyon
LEED Certification Goal: Gold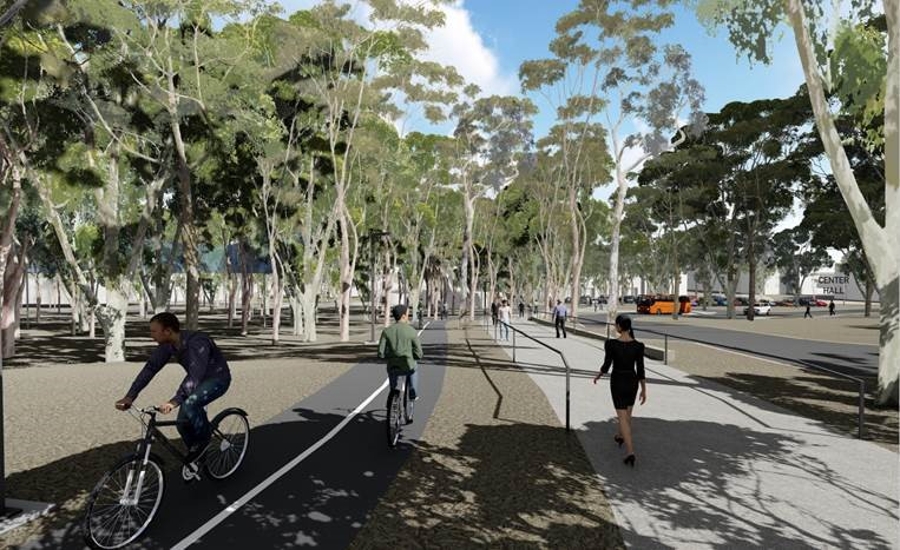 Project rendering
Ridge Walk is one of the primary non-vehicular circulation features of the UC San Diego campus. With completion of the North Torrey Pines Living and Learning Neighborhood (permanent home for Sixth College) and the opening of Seventh College in fall 2020, the north/south alignment of Ridge Walk will traverse six of seven colleges on West Campus. The Ridge Walk Improvements project will create an enhanced pedestrian and multi-modal experience, with an emphasis on Ridge Walk identity and wayfinding between Muir College and Revelle College. The design for Ridge Walk Improvements (Muir to Revelle) effectively balances the historic district character of Muir College and Revelle College while creating a fresh new look to this important circulation corridor. Improvements will also be made to enhance the connection between Ridge Walk and Library Walk near Mandeville Center.
Press
Project Details
Project Manager: Roland Bartsch

, (858) 24

6-0795
Phase: Construction
Executive Design Professional: Spurlock Landscape
Contractor: DPR
Anticipated Completion: Fall 2021
Location: Muir – Revelle College
Current Site View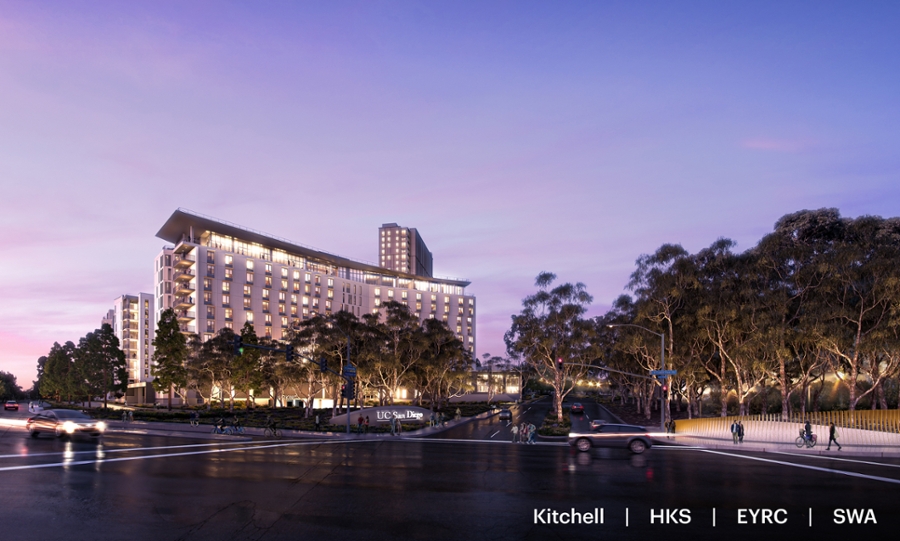 Project rendering
---
The Theatre District Living and Learning Neighborhood would include five buildings ranging in height from 9 to 21 stories to provide approximately 2,000 new beds for undergraduate students, residential life and administration offices for a new college, general assignment classrooms, meeting space, restaurants and retail space for approximately 900,000 gross square feet total. 
The 11.8-acre site is located at the southwestern edge of the campus. Public realm improvements would include: an enhanced campus entry at the Revelle College Drive intersection; partial realignment of Scholars Drive South (campus loop road); a valet/drop-off zone for the adjacent Theatre District; a transit hub for campus shuttles and public transit buses; an extension of Ridge Walk (a primary north-south pedestrian spine) to the southern campus boundary; and recreation/outdoor wellness spaces located strategically throughout the site. When complete, the project will include replacement parking in a below-grade configuration for approximately 1,200 cars (325 net new spaces).
Construction on the project began in early 2021 with completion anticipated in fall 2023. The project is in the initial phase of construction with excavation activities planned to begin June 2021.
Pursuant to the California Environmental Quality Act (CEQA), CEQA Consistency Analysis for the project has been prepared. This is included as an Addendum to the 2018 LRDP Environmental Impact Report (EIR) wherein this project was evaluated for impacts. The consistency analysis concludes that the project is consistent with the 2018 LRDP EIR, and the project will not result in any new significant impacts.
Project Details
Project Manager: Dennis Brown

,

 (858) 246-0185

Phase: Construction
Executive Design Professional: HKS & EYRC
Contractor: Kitchell
Location: West Campus Neighborhood (south of Revelle College – site map)
LEED Certification Goal: Gold
Construction Camera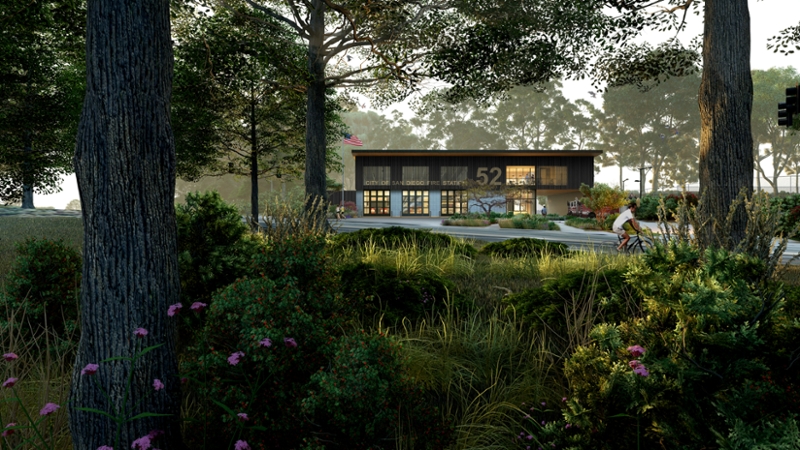 Project rendering
The fire station, a first for the campus, would be built as a partnership between the City of San Diego and UC San Diego, with the goal of serving the needs of the growing university, as well as the local surrounding community. The fire station, to be located near the intersection of Genesee Avenue and North Torrey Pines Road, would enable faster response times and provide vital emergency services that will benefit the UC San Diego community and the many families and individuals who live in the surrounding community. It would be approximately 10,500 gross square feet and comply with the City of San Diego Fire Station and UC San Diego construction standards. The new station would accommodate the standard fire station crew of 12 personnel per 24 hour shift and include three drive through fire apparatus vehicle bays, administrative offices, kitchen and dining area, day room, reception/watch room, training room, wash room, exercise room and crew quarters.
Press
Project Details
City Project Manager: Monica Arredondo
UC San Diego Project Liaison: Brooke Sween-McGloin, (858) 295-9232
Phase: Design
Executive Design Professional: Miller Hull
Contractor: Level 10
Location: Intersection of Genesee Avenue and North Torrey Pines Road
LEED Certification Goal: The project is designed to meet LEED Silver 4.0 and the City of San Diego's Climate Action Plan.
Project rendering
The City of San Diego selected Holland Partner Group to redevelop a full-block site at the northwest corner of the intersection of Park Boulevard and Market Street in downtown San Diego. The redevelopment project will include apartments, retail, parking and warm shell space. In June 2017, the UC Regents authorized the campus to purchase approximately 66,000 gross square feet of this warm shell space to create a UC San Diego location at this property. The property has been entitled through the City as part of the larger mixed-use high density development and the City is acting as the responsible agency under the California Environmental Quality Act (CEQA).
The site is strategically located in the heart of downtown San Diego's East Village neighborhood, clustered with educational institutions as well as firms and entrepreneurs specializing in innovation, technology, and the creative arts. The center will become a key intersection where people, ideas, and plans that draw on the rich resources of a global research university can come together to address the bigger question: what can San Diego become? The downtown center was designed with a purposeful mix of public, meeting, arts, and educational spaces for civic engagement, learning, collaboration, and cultural experiences unlike anywhere else in the region.
UC San Diego will convene an unprecedented array of talent and resources, from local to global, at the downtown center, allowing individuals, organizations, students, staff and faculty to build new productive relationships and create opportunities to improve our community—economically, culturally, socially, and for the greater civic good. The shell building will include underground parking, storage, a grand spiral staircase, offices, computer lab, classrooms, dance/yoga studio, theater space, critical listening room, bistro café and LED video wall and is a LEED Silver certified project featuring a green roof.
Press
Project Details
Project Manager: Jason Berge, (619) 743-0852
Phase: Construction
Executive Design Professional: Gensler
Contractor: Bycor
Location: Downtown San Diego – intersection of Park Boulevard and Market Street
LEED Certification Goal: Silver
With the arrival of Light Rail Transit Service to campus, the San Diego campus will transform the University Center to create a vibrant, pedestrian-scaled, transit-oriented, urban core that optimizes programmatic synergies between the campus and community. Improvements would connect the University Center Urban Core more fully to the UC San Diego campus and the city. Bicycle and pedestrian connection to the east, Rupertus Lane and Lyman Lane will extend to the LRT stop. Bicycle and pedestrian connection to the west, Rupertus Lane would extend uphill past Mandeville Center and connect to Ridge Walk. Removing vehicles from Rupertus Lane, along with these future connections, would create Rupertus Walk—a new east/west bicycle and pedestrian-only thoroughfare directly linking the Pepper Canyon LRT Station to Ridge Walk, the university's primary north/south bicycle and pedestrian connection.
Phase: Planning

Project rendering
Located in the Revelle College Neighborhood on the main campus, York Hall is an essential resource for teaching and research at UC San Diego. The project will provide seismic improvements to York Hall, a 134,000 square-foot concrete structure built in 1966.
Project Details
Program Manager: Elisa Pittner, (858) 232-7116
Associate Project Manager: Robert Northrop, (858) 242-9488 (email is rnorthrop@ucsd.edu)
Phase: Subcontractor Bid/Award
Executive Design Professional: LPA, Inc.
Contractor: PCL Construction Services, Inc.
Location: Revelle College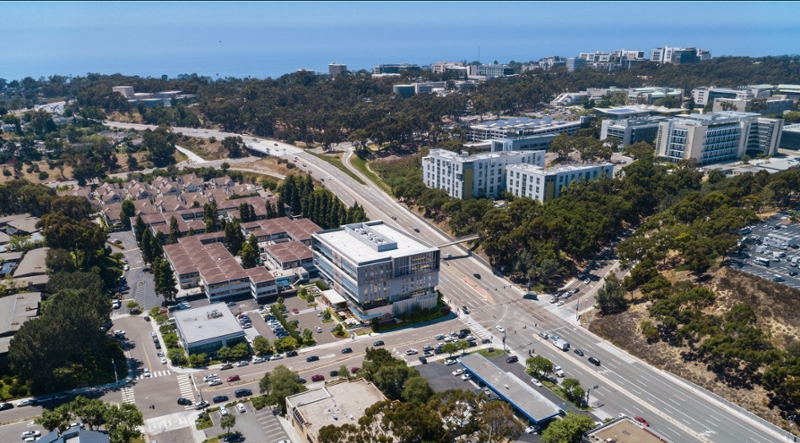 Project rendering
The project at 8980 Villa La Jolla Drive is a public private partnership (P3) project located on University of California land, and designed and constructed by a private developer.
The project is planned as a new, state-of-the-art facility that will house several programs from UC San Diego Health/ School of Medicine, and UC San Diego Extension serving students, patients and the larger community. It will include approximately 110,000 square feet of office and educational space, a ground-floor café accessible to the public and approximately 275 parking spaces.
View live webcam
Project Details
Project Manager: BNG Consultants, Emmi McLean
Director Real Estate P3 Development: Julie Kilpatrick
Capital Program Management Project Liaison: Brooke Sween-McGloin, (858) 295-9232
Phase: Construction
Developer: GPI
Architect: Gensler
Contractor: Swinerton
Anticipated Completion: Fall 2023
Location: 8980 Villa La Jolla Drive, La Jolla, CA
LEED Certifications Goal: Silver or higher
Questions or Comments?
Complete our Customer Feedback Form.