Urban Design Challenge 2020: University Center Interim Mobility Plan
Urban Design Challenge Purpose & Drivers
In fall 2021, the Mid-Coast Trolley will open and the UC San Diego Blue Line will provide an exciting new transit option for Tritons, bringing thousands of students, staff, faculty and visitors to the new Pepper Canyon Trolley Station in the heart of campus. The COVID-19 pandemic has paused several planned Campus Transformation projects, including the Triton Pavilion, which included significant public realm improvements to enhance pedestrian and micromobility safety in the University Center in anticipation of the trolley opening.
During fall quarter, October 1 through December 4, 2020, Campus Planning and Transportation Services joined the Young Planners Society and the Urban Studies and Planning Department to present UC San Diego's first virtual Urban Design Challenge 2020: University Center Interim Mobility Plan.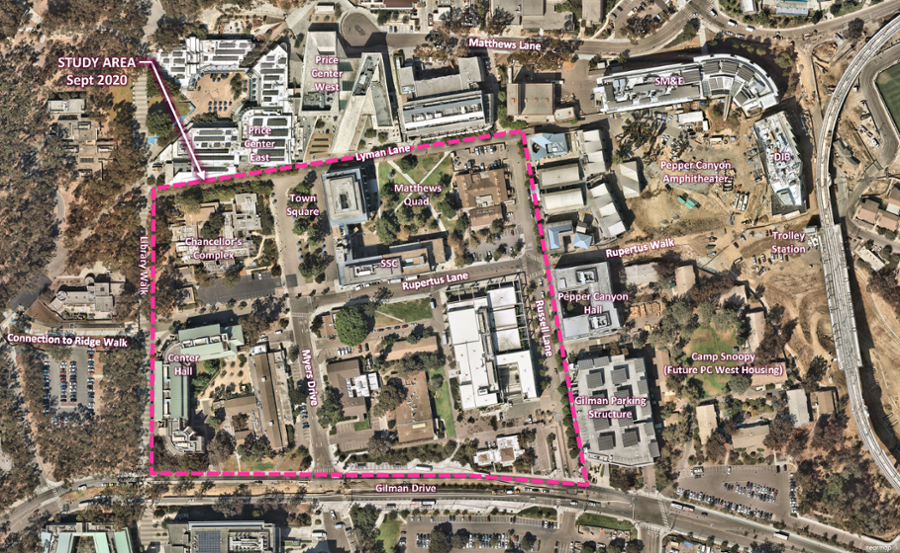 The Urban Design Challenge was a real-world experiential learning opportunity that allowed current UC San Diego students and first-year alumni to gain experience in responding to a Request for Proposal (RFP) and to use their unique perspectives as users and designers. Student teams were required to submit written proposals for an interim mobility plan in the University Center that could be implemented before the trolley opens and remain in place until more permanent public realm improvements could be made.
The challenge required a tactical plan to identify financially responsible temporary solutions that the campus could implement quickly to accomplish these specific goals and objectives:
Create a micromobility and pedestrian friendly environment
Improve wayfinding to and from the trolley station to the heart of campus
Reduce vehicle/pedestrian/micromobility conflicts in the University Center
Iterative Process
Four teams of four to even students participated in the challenge and alumni advisors guided teams throughout the process. The teams also had access to industry experts in mobility planning, urban design and traffic engineering.

Each team participated in an iterative workshop session with campus stakeholders from Campus Planning, Transportation Services, the Design Lab, Capital Program Management, Design & Development Services, Facilities Management, Fire, Life & Safety, Associated Students, and University Centers. This iterative session allowed students to gain experience in working with various stakeholder groups and incorporating feedback into their final proposals.
Results + Next Steps
Each team presented to a judging panel that scored them on:
Definition of the Problem
Design Process
Design of Proposed Solution
Feasibility of Proposal
Overall Proposal
Graphics
Presentation
The teams presented outstanding tactical interventions for the University Center. Urban Design Challenge organizers plan to convene a workgroup to use these ideas as a basis to develop and implement an interim mobility plan for the University Center.
Team Awards
Grand "You're Hired" Prize & Most Student-Centered Design – Team No. 1
Second Place & Best Design Process – Team Four
Most Professional Graphics & Ready-to-Implement – Triton Design
Most Detailed Proposal – Architecture Team
Special Recognition - Individuals
Communication & Leadership – Alicia Tam
Most Growth – Derek Meksavanh
Eloquent Storytelling – Tzinti Aguirre-Medina
Future Podcast/Political Superstar – Yunho "Tommy" Jung
Ready, Willing, & Able – Kanah Lee
Special thanks to our campus partners and industry sponsors who provided funding for prizes and who helped make this event possible.