Urban Design Challenge 2020: University Center Interim Mobility Plan
Join Campus Planning for a virtual urban design challenge and showcase your creativity with this quarter-long experiential learning opportunity!
University Center Experience Survey
Campus Planning is gathering data about the campus your experiences in the University Center in preparation for the Urban Design Challenge 2020 kickoff. Share your experiences and recommendations for improving circulation in the University Center by taking our short survey.
What is the Challenge?
The Mid-Coast Trolley will open fall 2021 and the UC San Diego Blue Line will provide an exciting new transit option for Tritons, bringing thousands of students, staff, faculty and visitors to the new Pepper Canyon Trolley Station in the heart of campus. The COVID-19 pandemic has paused several planned Campus Transformation projects, including the Triton Pavilion, which envisioned significant public realm improvements for the University Center in anticipation of the Trolley opening.
The Urban Design Challenge is a real-world experiential learning opportunity that allows current UC San Diego students to gain experience in responding to a Request for Proposal (RFP) and to use their unique perspectives as users and designers. Student teams can submit proposals for an interim mobility plan to improve micromobility and pedestrian safety and wayfinding in the University Center until the campus can implement a permanent plan.
The interim plan should be tactical and identify financially responsible temporary solutions that the campus could implement quickly to accomplish these specific goals and objectives:
Create an environment friendly plan for all transportation modes
Improve wayfinding from the LRT station to the heart of campus for first-time visitors
Enhance safety and reduce pedestrian, micromobility and vehicle conflicts in the University Center
Process and Timeline
The University Center Interim Mobility Plan Urban Design Challenge will be held during Fall Quarter 2020.
Schedule
Timeline

Challenge launched

October 1
Registration is closed

Advisor Check-Ins
Each team will be assigned an alumni advisor who will facilitate group discussions and guide you to resources.

Weekly

Public Q&A
Campus staff will answer site clarification questions and post answers here.

Week 2-3: Oct. 12-25

Mentor Q&A
Industry experts will offer appointments for students to sign up to receive technical assistance on their proposals.

Week 3-6: Oct. 19 through Nov. 15

Plan Check
Campus stakeholders will review proposal concepts with teams and provide feedback.

Week 5: Nov. 6

Proposals Due
Teams must submit proposals by November 23, 11:59 p.m. PT.

Week 8: Nov. 23

Submittal Review
Judging panel will review submissions.

Week 8–9: Nov. 23 through Dec. 3

Presentations
Teams will have 30 minutes to present their proposals to the judging panel and answer questions.

Week 9: Dec. 3-4

Winner Announced
Winners will be contacted by email and posted here.

Week 10
Participant registration for the Urban Design Challenge is closed. Participants should download and join the Slack workspace for links to the information packet, downloads and general challenge communication.
Advisor registration for the Urban Design Challenge is closed. If you're interested in learning more about how you could get involved, check out the mentor and sponsor sections below.
Campus Planning seeks subject matter experts in planning, civil engineering, architecture, landscape architecture, transportation engineering/mobility and related fields to mentor student teams. We ask that mentors contribute a maximum of two hours per week from October 19 through November 15, 2020.
Mentors also have the option to host an educational session on a topic related to the Urban Design Challenge instead of hosting office hours. Topics can include: tactical urbanism, active transportation, proposal presentations or any other creative ideas you have. Please contact urbandesignchallenge@ucsd.edu if you would like to discuss hosting an educational session.
Mentors will need to provide time slots for virtual office hours so that student teams can schedule appointments. If you are interested, please complete this form by October 14. Urban Design Challenge staff will contact you regarding appointment details after processing your registration.
Interested in sponsoring the Urban Design Challenge? You and your organization can donate money (any amount is welcome), gift cards, swag, professional development workshops, roundtables or other creative resources. We will include all sponsors in event materials, presentations and on this webpage.
You can make a monetary donation and under special instructions on step 2, please note that the gift is for "YPS: Urban Design Challenge." Please submit your sponsorship donation by October 14. If you are still interested in donating, but you missed the deadline, please contact urbandesignchallenge@ucsd.edu.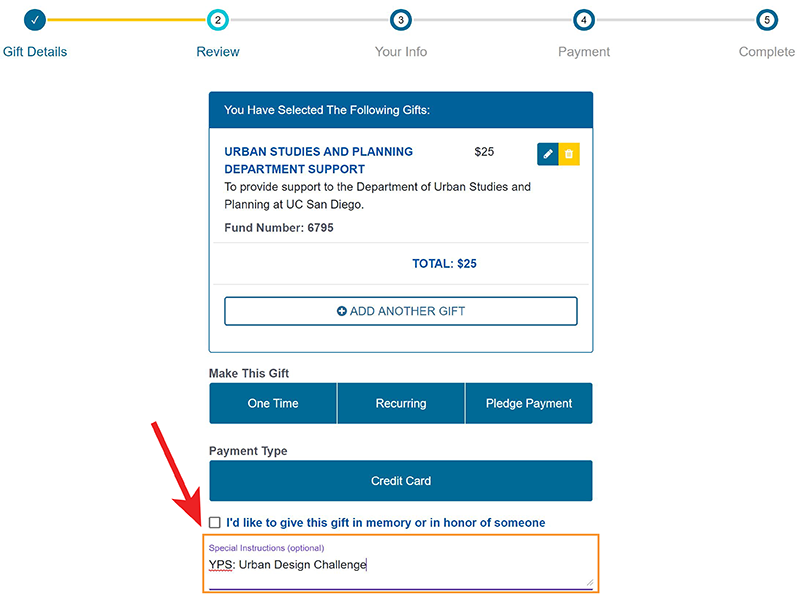 If you're interested in donating swag, gift cards, or anything else, please email urbandesignchallenge@ucsd.edu. We look forward to hearing from you.
When does the Urban Design Challenge take place?
The Urban Design Challenge will take place over weeks 1-9 of fall quarter (October 1 through December 4). Note that challenge participation will be completely virtual.
What's the time commitment for challenge participation?
The time commitment will vary week by week and depends on how your team decides to approach the problem. Teams are required to attend several virtual meetings. This includes a weekly 60-minute check-in with your team advisor from weeks 1-9, a 30-minute Plan Check session on November 6, and a 30-minute final presentation to the judging panel on December 3 or 4.
How will participants receive information during the challenge?
All communication regarding the challenge will take place via the Urban Design Challenge Slack workspace. If you have trouble accessing the workspace, please contact urbandesignchallenge@ucsd.edu as soon as possible to resolve the issue.
What will I be expected to submit?
Each team will be expected to submit no more than one page describing the concept of their proposal prior to Plan Check and to submit the full proposal no later than November 23, 11:59 p.m. PT.
Will winning designs be implemented?
The purpose is to generate ideas from the student perspective. Depending on the availability of resources, ideas from proposals or a combination of ideas from proposals may be implemented after additional review by staff, industry experts and leadership.
Can I receive academic credit for the Urban Design Challenge?
If you are a senior in the Urban Studies & Planning Department, participation in this challenge can count towards the internship component of the Senior Sequence. The challenge is also Co-Curricular Record (CCR) approved and can be credited on participant's transcript through the CCR program.
What is the difference between the public Q&A and mentor Q&A?
The public Q&A is for site clarification questions that will be answered by campus staff. The mentor Q&A will be run as virtual office hours that participants can schedule to discuss questions specific to their proposal. Participation in the public Q&A and mentor Q&A is encouraged, but not required.
What will be provided to participants?
The week of the Challenge Kick-Off (October 1), participants will receive an information packet that includes details on the challenge process, study area, submission requirements and evaluation criteria. The information packet will also include appendices with data from the University Center Experience Survey, a resource guide, and more.
To assist with graphics development for the proposal, participants will also receive:
2020 campus aerial (PDF)
Overall campus base map (PDF)
Study area (PDF & CAD)
Will the winners receive recognition?
All participants will receive a certificate of completion from campus leadership and winners will receive certificates for their prize. We are developing more ways to recognize challenge participants and will post information as it becomes available.
Questions?
Contact urbandesignchallenge@ucsd.edu.